Sixth Form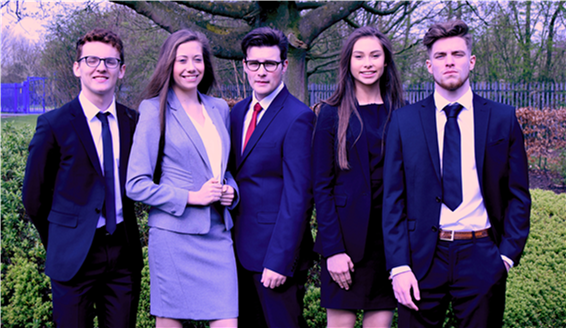 Park Hall Sixth Form was graded as 'Good' by OFSTED in November 2017.
Standards and Expectations: Park Hall Sixth Form insists on the very highest standards of behaviour, attendance and commitment to learning. Since 2016 Park Hall Sixth Form has adopted a Business Dress Code as reflected in the picture above.
Results and Achievements: The levels of progress made by Park Hall Sixth Form students in both academic and vocational subjects are consistently above the National and Solihull averages.
Options in the Sixth Form: Students follow one of three 'pathways' through the sixth form.
Pathway 1: Traditional Academic A levels (exams at the end of 2 years study)
Pathway 2: Btec Level 3 courses (equivalent to A levels and combining coursework style assessments and A level style examination.).
Pathway 3: Combination of A levels with Btec Level 3 qualifications
External students can click here to apply online.
Subjects on Offer
A level Subjects

Vocational Level 3 courses

Art & Photography

Biology

Business

Chemistry

English Literature

Geography

Government & Politics

History

Mathematics

Media Studies

Physics

Psychology

Sociology

Applied Psychology

Applied Science

Children's Play, Learning & Development

Criminology

Enterprise and Entrepreneurship

Health & Social Care

Information Technology

Creative Media Production

Performing Arts

Sport
Additional Enrichment Opportunities in the Sixth Form at Park Hall
Student Leadership (Sixth Form Executive)
Compulsory Work Experience
Academy Colours Award
World Challenge Expedition (Nepal 2017)
NCFE Employability qualification (all students in Y13)
Educational Visits (including India, Nepal, New York, Washington, Austria, Switzerland and Iceland since 2014)
Envision Active Citizenship Programme
Community links / Volunteer Work
Sports Leaders / Sports Team representation
Business Enterprise Group
Student Mentoring
Year 12 Enrichment programme
Work Experience
For any further information about the sixth form please contact Mr Cornell on icornell@parkhall.org or to arrange a guidance interview on alternative options contact Mr Brady on sbrady@parkhall.org Thank you.